Singles Day 2017 has achieved a new record for the number of purchases via cashback websites of OrangeBuddies Media worldwide. On 11 November, the number of cashback purchases was nearly 3x higher than in 2016. The total order value of the purchases has also tripled and the average, this year, has increased to €11.32 per purchase. For OrangeBuddies, the Dutch market is in the lead on Singles Day, followed by fast growing markets like the Belgian, French and Italian markets. Ali Express remains the favourite online shop with cashback shoppers.
This year, Singles Day resulted in an enormous increase in the number of cashback purchases for OrangeBuddies. With a growth of 285% in the number of purchases on 11 November, results have almost tripled compared to last year. With an increase of 340%, the total order value has also grown significantly.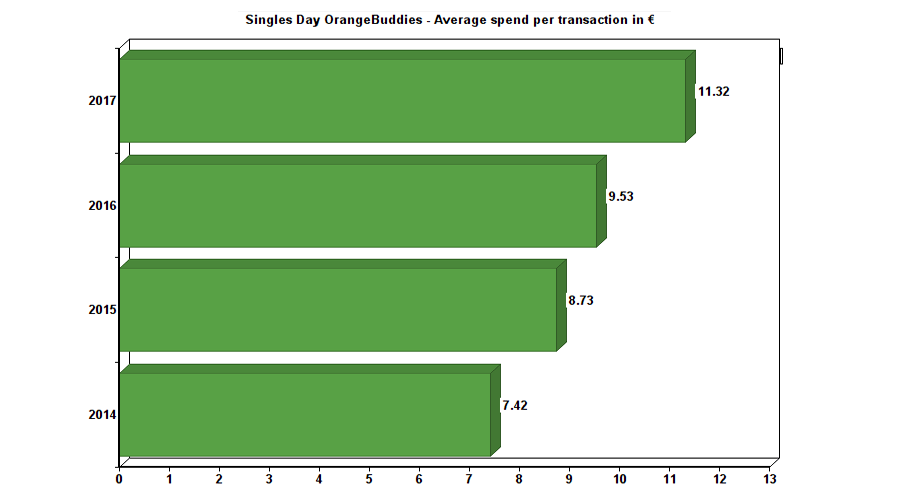 In recent years the Singles Day event has received a lot of attention in the media and a growing number of online shops have picked up on it with special promotions. Cashback shoppers worldwide are also benefiting more and more from this event, which was originally intended for singles. This is evident from the average amount spent per purchase among cashback shoppers, which has increased each year since 2014. While the average amount spent increased only slightly between 2015 and 2016 by only €0.80, this year there is a clear increase by €1.79, resulting in an average amount spent per purchase of €11.32 in 2017.
Increase in scope, members and 100% cashback
"In addition to benefiting from the general increase in public awareness of Singles Day worldwide, there are other factors that contribute to the enormous increase in purchases via OrangeBuddies", says CEO Sabrine Boogers. "In some countries the number of members has increased significantly in 2017, and the launch of the
100% cashback concept ShopBuddies
in the Netherlands, Belgium, UK, Australia, Italy, Germany and France has contributed to this. This new concept is highly competitive and it attracts many online consumers who like to save on their purchases". In addition, OrangeBuddies has expanded into new markets in 2017, such as
Portugal
,
USA
and
Norway
, which has further increased the scope.
E-commerce Italy has picked up speed
Every year, Singles Day is getting more popular and a growing number of consumers postpone their purchases in the days leading up to the event in order to seize the opportunity on 11 November. OrangeBuddies notices clear differences in the growth and popularity of the event in the different countries the company is active in. The Netherlands, which has been the basis of OrangeBuddies since 2009, is in the lead in terms of the number of transactions and total order value. However, countries such as Belgium, France and Italy are growing fast and are getting closer to the Dutch market every year.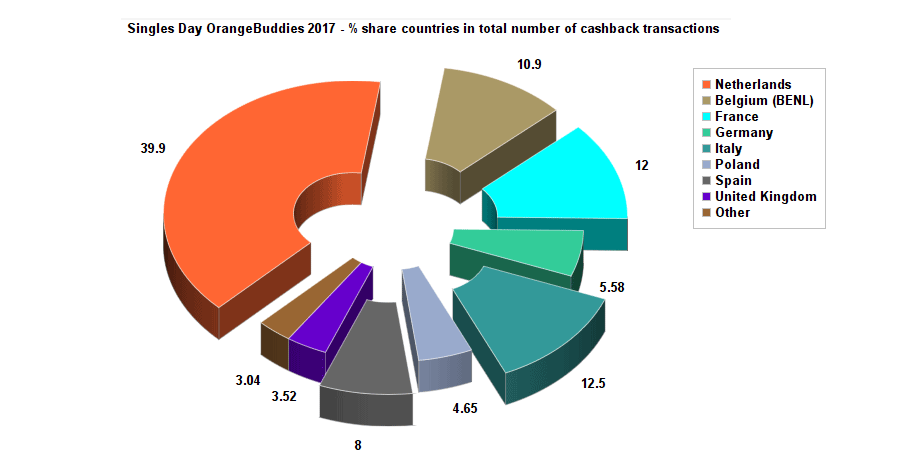 The developments in the area of e-commerce in Italy have picked up speed for OrangeBuddies in 2017. This also shows in the position of Italy in the total transaction share on Singles Day this year, resulting in a well-earned second place. "For the coming years OrangeBuddies expects an even higher growth in this market, and not only on Singles Day. The Italian market shows high potential and is ready to fully embrace the cashback concept", says CEO Sabrine Boogers.
The popularity of Singles Day is increasing worldwide
In addition to Italy, Belgium (Flanders) and France also show excellent growth rates compared to the results of Singles Day 2016. In Belgium, the average spend per transaction is slightly above the average for 2017. With a growth of about 700% in number of purchases as well as order value, it is indisputable that Singles Day is gaining in popularity in Belgium. 11 November is also popular among shoppers in France, but for the time being their purchases are mainly small, resulting in a lower total order value. Although countries like Finland, Denmark and the Czech Republic do not yet have a significant share in the total purchases on Singles Day, they show the highest growth rates compared to 2016. These countries are relatively new to OrangeBuddies and have many possibilities for increase in scope and fast growth. In terms of the average amount spent per purchase, the Czech Republic is about average, while Finland and Denmark are well above average.
Increase in Ali Express purchases by 550%
During this year's Singles Day many cashback shoppers found their way to Ali Express. The total number of purchases for this online shopping platform increased by no less than 550% compared to 2016. The biggest increases were seen in Germany, the Czech Republic and Belgium.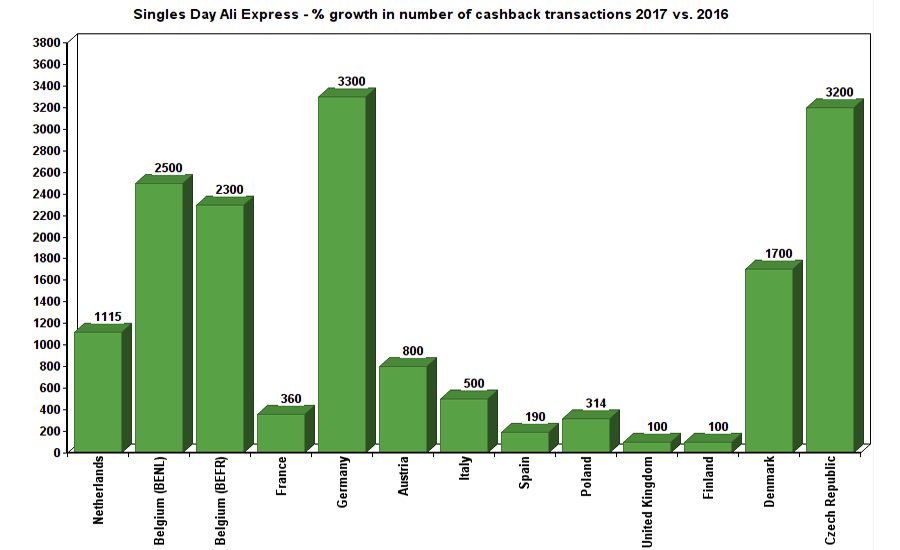 In addition to the overwhelming interest in Ali Express, a company that has paid special attention to Singles Day for some time, OrangeBuddies also notices other online shops that make clever use of this event, resulting in a strong boost of their turnover. Examples are bol.com in the Netherlands and Belgium, and Ebay in many other countries. With its cashback websites OrangeBuddies has had a focus on Singles Day for some years and has seen significant growth in a number of countries. For the coming year it will also be interesting to watch the emerging countries, because this is likely where we will see an extra increase of the number of cashback purchases on Singles Day.