On July 18-20 the newest edition of Affiliate World Europe takes place in Barcelona, Spain. This conference is a gathering of superaffiliates, which OrangeBuddies does not want to miss. Are you attending too? Let's meet!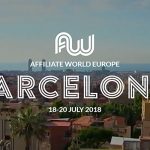 With our extensive reach, OrangeBuddies is always seeking for opportunities to meet other global partners. The Affiliate World Europe conferences are the occasion to get in contact with likeminded marketeers, advertisers and networks. One of the best networking events and one you should definitely visit!
Barcelona is the home of one of our largest branch offices, managed by Vincenzo Decaro. Most markets we operate on are serviced from this location. From our office on Via Laietana we are only a few kilometers away from this global conference. Based on previous AW events, we again expect a lot from this conference in Barcelona in the field of networking opportunities, new market developments and interesting cooperations.
Besides Vincenzo Decaro also Gijs de Jager, our Global Sales Manager, will join this edition of Affiliate World Europe. Are you also there? We would like to meet you! Contact us to set up a meeting, grab a coffee or lunch or just getting to know eachother and discuss some opportunities.