This year's Black Friday event, a shopping extravaganza that is growing in scale and scope globally every year, is set to kick off this week. It's the ultimate opportunity for retailers to triple their sales. But do you know what consumers expect, what they are interested in and what they intend to buy on Black Friday 2018? OrangeBuddies Media studied Black Friday shopping habits to provide insight into the expectations and spending intentions of over 26,000 consumers worldwide participating in the survey.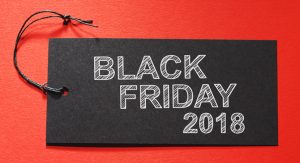 Popularity of Black Friday around the globe
The cashback communities of OrangeBuddies Media, a global leader in the field of cashback websites and shopping platforms, clearly reflect that Black Friday has become increasingly popular in recent years. No other country can match the US and the UK in terms of familiarity (nearly 100%), but Scandinavia, Italy, Spain and France are not far behind. The majority of consumers in these countries are aware of the existence of Black Friday and know when the event takes place. Germany, Austria and Switzerland are least familiar with Black Friday.
Consumers that are aware of Black Friday are on average 35 to 65 years of age, with age peaks in the Scandinavian countries.
In some countries there are doubts with regard to the month in which Black Friday takes place. Although respondents claim to be familiar with the retail event, the month of October is often mentioned instead of November.
Most popular Black Friday purchases
Our survey shows that consumers who have previously shopped on Black Friday intend to do so again in 2018. About 75% of the respondents worldwide indicate that they are going to wait until Black Friday to shop for certain items. High discounts and competitive prices are the most important reasons to wait. Women in particular hold off buying to maximise their odds of finding low prices.
The most popular product categories among Black Friday shoppers worldwide are clothing & accessories and electronics. The third most popular product category varies per country. What is also striking is that certain product categories, such as furniture and holidays, are barely mentioned. So this presents a perfect opportunity for retailers to respond to market demand and boost sales by being one of the few to offer sharp discounts and targeted promotions.
What are our shopping and spending habits?
Most Black Friday shoppers prefer to shop online and in multiple stores. Almost all respondents – 90 to 100% in each country – compare prices before they buy. The majority expects to get more than 51% off on their purchases. This is extremely high but in keeping with the extreme nature of Black Friday.
In terms of spending habits, most countries are within the same range. The indicated EUR 51 to EUR 150 per respondent combined with a relatively high buying intention makes for high expectations for this year's Black Friday.
Black Friday and cashback
Our survey also provides insight into the extent to which cashback rebates play a role during Black Friday. The respondents are savvy shoppers as is clear from the fact that they intend to purchase through cashback websites. The respondents also indicate that the amount they stand to get back for their purchases is an important factor in determining where they shop.
What started as a way to celebrate the start of the festive season, Black Friday has now become a global event where people shop for all sorts of items. Having said that, 40 to 55% of consumers still see Black Friday as a great opportunity to do their Christmas shopping.
More information?
Would you like to see the complete results of our survey? Or would you like to have insight into all statistics and view the differences per country and gender? Then contact our sales teams and receive the full research report so that you can make the most of Black Friday 2018.
In the media: