The 2017 Black Friday & Cyber Monday are about to kick off again during the weekend of 24 November. This annual shopping event returns every year and has grown to become one of the most spectacular online shopping moments. It is the supreme moment for retailers to effectively allocate their marketing budgets. OrangeBuddies Media offers advertisers worldwide access to over 8 million loyal online consumers who, on average, are more interested than most in special offers and extra discounts.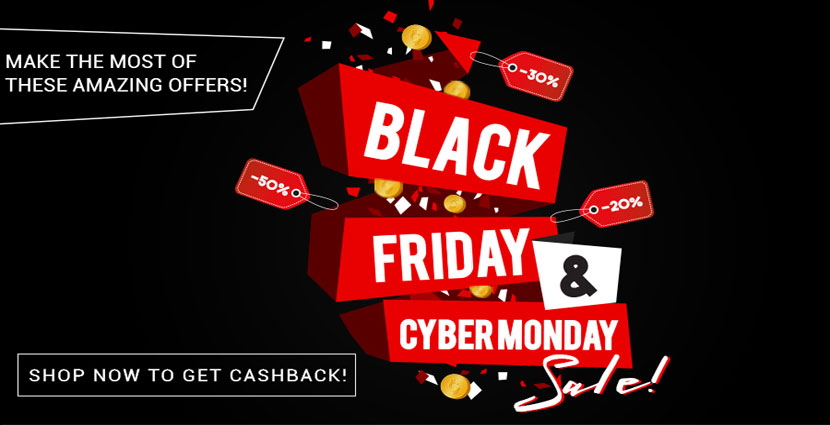 The 2017 Black Friday & Cyber Monday promises to be a veritable feast of discounts once again. Millions of products worldwide will be offered with exceptionally huge discounts for a limited time. Thanks to the growing awareness of Black Friday & Cyber Monday as the most extreme discount days imaginable, the turnover and volume has increased tremendously. It is the ideal moment for consumers to shop affordably online before the December holiday period. Black Friday Sales weekend offers retailers great opportunities. Extra visibility with the (potential) target group through the right channels could mean a mega boost in turnover. Besides implementing the right channels with which
affiliate marketing has demonstrated its enormous potential
, it is important for retailers to create specific landing pages to capture the 2017 Black Friday audience and help them find the best deals.
Loyal Black Friday cashback shoppers become new customers
The OrangeBuddies Media cashback websites have a worldwide reach of over 8 million consumers. These are loyal consumers who frequently shop online and have an above-average interest in special offers and extra discounts. On its cashback websites, OrangeBuddies Media offers themes surrounding the Black Friday and Cyber Monday weekend, which send a lot of additional traffic to the retailers. Besides various display possibilities on our cashback websites, including takeovers and theme page banners, e-mail marketing can also be implemented in collaboration with retailers whereby dedicated mailings and far-reaching segmentation is possible, among others. In addition to the extra traffic and sales that the 2017 Black Friday offers, OrangeBuddies Media can also offer long-term advantages. Via the OrangeBuddies cashback websites, retailers can also reach many new potential customers to further expand their customer database with loyal shoppers. With the right segmentation per country and in collaboration with retailers, there is a targeted focus on potentially interested consumers. » OrangeBuddies Media has made a special media kit available for the 2017 Black Friday & Cyber Monday (long) weekend.
Feel free to request it immediately or contact us
so we can discuss the possibilities.